By: Divyanshu Bhard | Updated Date: Thu, 07 Apr 2011 17:07:24 (IST)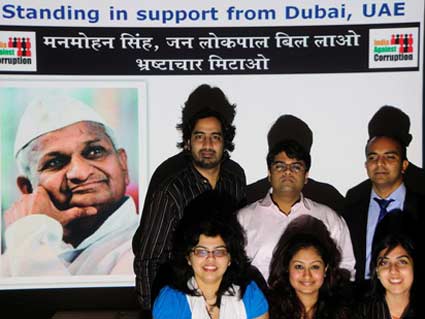 Do you remember your college days? Days of bullfights, days of pink colors, days of bunked classes, days of madness and days of long chit chats on Chai shops. I know you you do. If I say I have got few of them back would you easily believe me? But just believe, we got them back. Facebook is now playing the role of Chaiwala and you and I and many like us  are getting mad on the issue of corruption.
Facebook's initiative these days is very similar to the Socrates Cafe. This idea is similar to the idea of the Socrates Café. Just  to bring everybody at one platform for more learning as we always question and question with others.
When fight against corruption is at its peak in Delhi, it is now Facebook which became a Teashop corner. You and I gather here, raise our voices, debate and share ideas with our friends. 

Facebook Cause getting popularity

Anna Hazare is on fast unto death. When youth in Delhi are directly appearing at Jantar-Mantar, rest of them are supporting via Facebook cause.

Gitesh Devhane creates a cause name India Against Corruption. He sets a target of 20,000 followers which he achieves within few days.

India Against Corruption

Public designed a Jan Lokpal Bill which has strong measures to bring all corrupt people to book. This fight is to force politicians to implement this powerful bill as an act in the parliament.

What is the reason for creation of "India Against Corruption" movement?

Series of scams involving politicians and bureaucrats at highest places has shaken the conscience of the nation in the last few months. Despite public outcry, no worthwhile investigations are going on in any one of them. This is because of several systemic deficiencies in our anti-corruption systems.This campaign is not aligned to or against any political party. We feel that every political party has misused its position whenever they have been in power or otherwise. Therefore, it is extremely important that the citizens of this country unite to demand systemic changes.

What do we want?

Towards that goal we have designed a Jan Lokpal Bill which has strong measures to bring all corrupt people to book, whether they are corporates, bureaucrats or politicians.Here are the drafts of the anti-corruption bill and legislations that will be effective in fighting corruption.

http://indiaagainstcorruption.org/ant...

Our fight is to force politicians to implement this powerfull bill as an act in the parliament and various states. This will create a strong deterrent against corruption once implemented.
Join us, and support our struggle to eliminate corruption from India.

What you can do to make India corruption Free?

1) Invite all your friends to this cause and spread awareness about this movement.
2) Join the March rally which will be taking place in your city.(27 March approx. date)
3) Share the Jan Lokpal Bill drafted by Imminent citizens of India.
4) If you have blog Put this cause widget, you can get it at

http://www.causes.com/widgets?cause_i...

Who are India Against Corruption Leaders?

India Against Corruption is a group formed by the coming together of concerned citizens of India from all walks and spheres of life.
Baba Ramdev- Yog Guru
Sri Sri Ravishankar- revered spiritual and humanitarian leader, peace activist.
Kiran Bedi- Indian social activist ,retired Indian Police Service officer
Prashant Bhushan- renowned civil liberties lawyer cum activist of India
Arvind Kejriwal - Indian social activist and crusader for greater transparency
Most Reverend Vincent M Concessao Archbishop of Delhi
Swami Agnivesh social activist.
Anna Hazare - Indian social activist
Mufti Shamoon Qasmi- Indian social activist
Mahmood A. Madani
Mallika Sarabhai
Maulana Kalbe Rushaid Rizvi -well known Islamic scholar & political leader.
Pradeep Gupta
Justice Retd. D S Tevatia
Kamal Kant Jaswal -Director, Common Cause
Devinder Sharma journalist, writer, thinker.
Subhash Chandra Aggarwal -Social Activist
B.R. Lall- former joint director of CBI
Sunita Godara - Athelete
Madhu Purnima Kishwar - Indian academic
Mr. Vishwas Utagi - secretary of All India Bank Employees Association.
The single thread that binds us toegther is a strong desire to see a corruption free India.

Join,Support and Vote on...

http://indiaagainstcorruption.org/ant...
http://indiaagainstcorruption.org
http://www.facebook.com/IndiACor
http://twitter.com/indiacor
http://voteforindia.org/
http://www.facebook.com/ChoosnaBandh
http://www.facebook.com/the.bharat.sw...
Positions
1.    We aim to join 1, 00,000 members till 27 march. So please invite all your friends.
2.    India Against Corruption is a movement of several concerned citizens of India to fight against corruption.
3.    http://indiaagainstcorruption.org
4.    http://www.facebook.com/IndiACor
5.    http://voteforindia.org/