By: Divyanshu Bhard | Publish Date: Thu, 24 Mar 2011 19:06:06 (IST)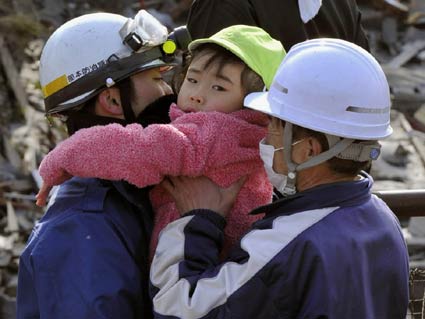 Japan government declares that Tokyo's tap water is unsafe for infants as high levels of radioactive iodine was detected in it.
Officials said, "The order is based on findings by the Health Ministry that said radioactive materials in 11 Fukushima-produced vegetables surpassed legal limits set under the food sanitation law, will take effect for the time being."
Meanwhile, rising smoke from the crippled Fukushima nuclear plant forced another evacuation of Japanese workers battling to restore its cooling functions.
Premier Naoto Kan warned people against consuming leafy vegetables such as broccoli, cabbage, cauliflower and spinach produced in Fukushima in Japan's northeast.
His warning came a day after the US Food and Drug Administration (FDA) said that it would ban imports of dairy products and vegetables from areas near the crisis-hit Fukushima Power Plant.
The metropolitan government said that 210 Becquerel of radioactive iodine were detected per litre of water against the limit of 100 Becquerel at a water purification plant on Wednesday in the Kanamachi district of Katsushika Ward.
Tokyo authorities said infants in the central 23 wards, plus 5 adjacent cities, should refrain from drinking tap water.
Stating about the danger of consuming contaminated food, officials said, "If a person eats 100 grams of the vegetable with the largest detected amount of radioactive materials for about 10days, it would be equal to ingesting half the amount of radiation from natural environment in a year."
The government detected 82,000 Becquerel of radioactive cesium, 164 times the legal limit in "kukitachina" leaves from Motomiya on Monday, along with 15,000 becquerels of radioactive iodine, which is more than seven times the limit.
Death, missing toll over 24,000
The confirmed death toll from the March 11 twin disaster stood at 9,408 while nearly 15,000 people remained missing.
Police said a total of 5,714 people died in Miyagi Prefecture and nearly 5,200 others were unaccounted for in the region. In Iwate prefecture, 2,875 people were confirmed dead and over 5,000 were missing.
In Fukushima prefecture, 762 people died and nearly 4,500 were missing following the worst natural disaster in Japan since the 1923 Great Kanto Earthquake that claimed more than 100,000 lives.
Fresh tremors
Strong earthquakes jolted the Pacific coast of northeast Japan this morning, following which the Meteorological Agency issued warnings about the possibility of powerful aftershocks, saying they could trigger more tsunami, NHK reported.
A quake with a magnitude 6.0 jolted Fukushima prefecture at around 7:12 am local time, followed by a magnitude 5.8 tremor about 20 minute later.
Powerful aftershocks warned
Following the Thursday's tremors at the coast, the Meteorological Agency issued warnings about the possibility of powerful aftershocks, saying they could trigger more tsunami.
Meanwhile, Japan's Nuclear and Industrial Safety Agency said, "The radiation level at the Fukushima atomic power station remained unchanged after black smoke rose from one of the reactors."
TEPCO said that two workers, who were installing a makeshift power source last night, were injured and hospitalised, but they were not exposed to radiation.
As part of their monitoring operation, helicopters of the Self-Defense Forces examined temperatures at the Fukushima nuclear power station.
Mass burial
Meanwhile, dozens of tsunami victims in simple wooden coffins were buried in a mass grave in a city in northeast Japan overwhelmed by death.
With makeshift morgues close to overflowing and crematoriums unable to keep pace with the numbers of bodies, the Japanese authorities have taken the drastic step of using mass burial sites as temporary resting places.
The burials in Higashimatsushima began on Tuesday, and 60 bodies have now been interred in a series of 50 metre-long trenches dug at the site of a former recycling centre on the outskirts of the town, including 36 on Wednesday.
Municipal official Hatsuhiro Kono said 400 more bodies were currently awaiting burial and with corpses being recovered from the devastated area on a daily basis the local government is repairing for a final count of up to 1,000 at the mass grave.